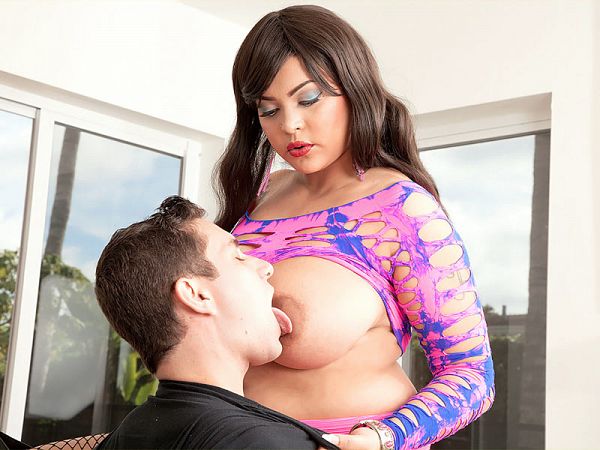 This scene is something out of a pervert's fantasy, and I mean that in the best way. Puerto Rican babe Cat Bangles, plumped up in all the right places, is a busty hooker, and she's dressed like one, too, in thigh-high boots and fishnets.

Brad has picked her up on the street and is sneaking her back into his house. No car blow job for this guy. He wants full service, and that means blow job, pussy fucking and ass fucking. Yeah, he fucks her ass. He also sucks her tits and eats her pussy. Pussy-eating is something most hookers won't allow, but Cat isn't just any hooker. She's a hooker who's in it for the sex as much as she's in it for the money...even more.

My favorite part of this scene is when the dude sits on the couch and Cat straddles him, bends over and sticks her big ass in the air and lets her tits hang down while she gobbles his cock. It's the kind of view that gives a lover of voluptuous girls everything he wants to see.

How does a guy--not one who's trolling for hookers--attract Cat's attention?

"You have a fresh hair cut and wear Burberry cologne. You're wearing a white collared shirt and grey slacks, no jacket, no tie. When I smell that cologne, my pussy gets wet."

And would Cat fuck on the first date?

"It depends on the chemistry and how horny I am. I usually play with myself before I go on a date so I can focus on my date and not sex the whole time. We could also just have sex in the middle of our date and then finish our date after we cum and get dressed again."