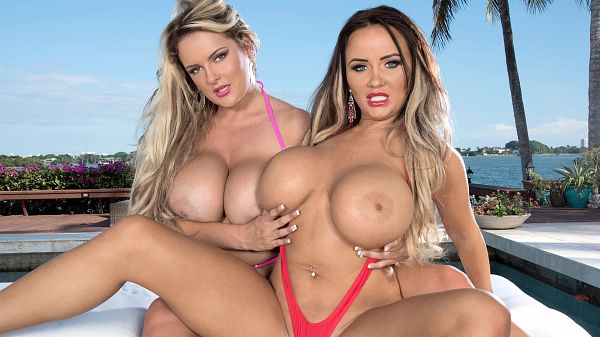 English birds Katie Thornton and Danniella Levy hit the big 305 in their string swimsuits made for Miami living. SCORE took the girls over to a swanky house by the water so they could pour oil all over their sexy, busty, perfect bodies and get chummy in a two-girl boob-orgy.

The suits come off as their rubbing and caressing escalate and the now-naked girls totally immerse themselves in oil, their skin glistening in the sun. The pilot of a helicopter passing by probably got an eyeful, too.

"I love Katie's big boobs," said Danniella, who couldn't keep her hands off of Katie.

Danniella is on BabestationTV, a British call-in channel. Guys phone the girls and watch them pose and listen to them talk dirty. Danniella has a Masters Degree in Dirty Mouth Chatting. Listen to her solo videos. She really can talk a hot streak.