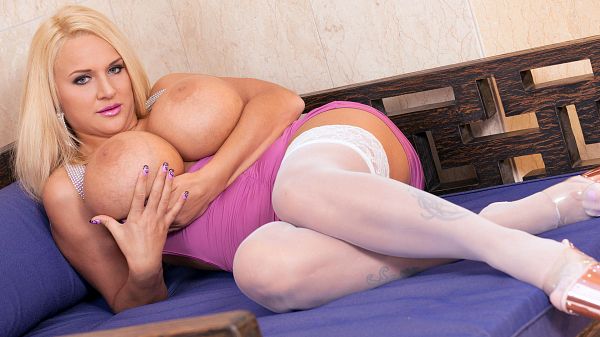 "High heels, tight dresses, make-up and hair fresh from the hairdresser. A manicure, a pedicure, deep cleavage and knowing that men will be looking at my photos, my videos and my webcam shows."

That's what Dolly Fox said when I asked her what makes her feel sexy.

A huge fan of mega-busty girls and a SCORE magazine collector, Dolly won the Model of the Year contest for 2017.

One of her goals was to visit the USA, meet as many of her idols in person as possible and have sex with them. The list included Minka, Kayla Kleevage and Kim Kupps plus newer girls such as Sheridan Love and Ariane Saint-Amour. Dolly made that goal come true.

I've rarely met a girl so into huge tits and huge-titted girls.

"I never try to hide my boobs," Dolly said. "I'm really proud of them and I don't want to hide them. I love to show my tits no matter where I am. The reaction I get is 'Wow!' but when I see the reaction on someone's face, it's priceless. You can't replace that 'Wow!' It's like they're seeing something that they have never seen before. I love to see their faces. It makes me smile. It makes me feel good."